Welcome to Blueprint Health and Fitness

Personal Training

Boot Camps

12 Week Challenges

Nutrition - Corporate & Online Training
Private PT Studio
City Location
No Sign Up Fees, Membership Fees or Long Term Contracts
Classes
CBD and Kangaroo Point
See below for our Boot Camp and Studio Time Table
Where to find us!
Brisbane CBD
Level 1B, 181 Elizabeth Street 0405 991 241
Studio Hours
PT Sessions by Appointment only
5am to 8pm

Monday to Friday

By Appointment

Weekends
WEBSITE OFFER
BOOT CAMPS
$34 UNLIMITED Boot Camps (Normally $49)
**JOIN WITH A FRIEND AND BOTH RECIEVE $50 GIFT VOUCHERS OF YOUR CHOICE**
-CBD and Kangaroo Point locations
Click the link and mention this special to find out more!
______________________________________________________________________________
PERSONAL TRAINING INTRODUCTION
-15 Min Health and Fitness Assessment and Goal Setting
-30 Min One on One Personal Training Session
-Nutrition Discussion
$69 (Normally $149)
Click the link and mention this special to find out more!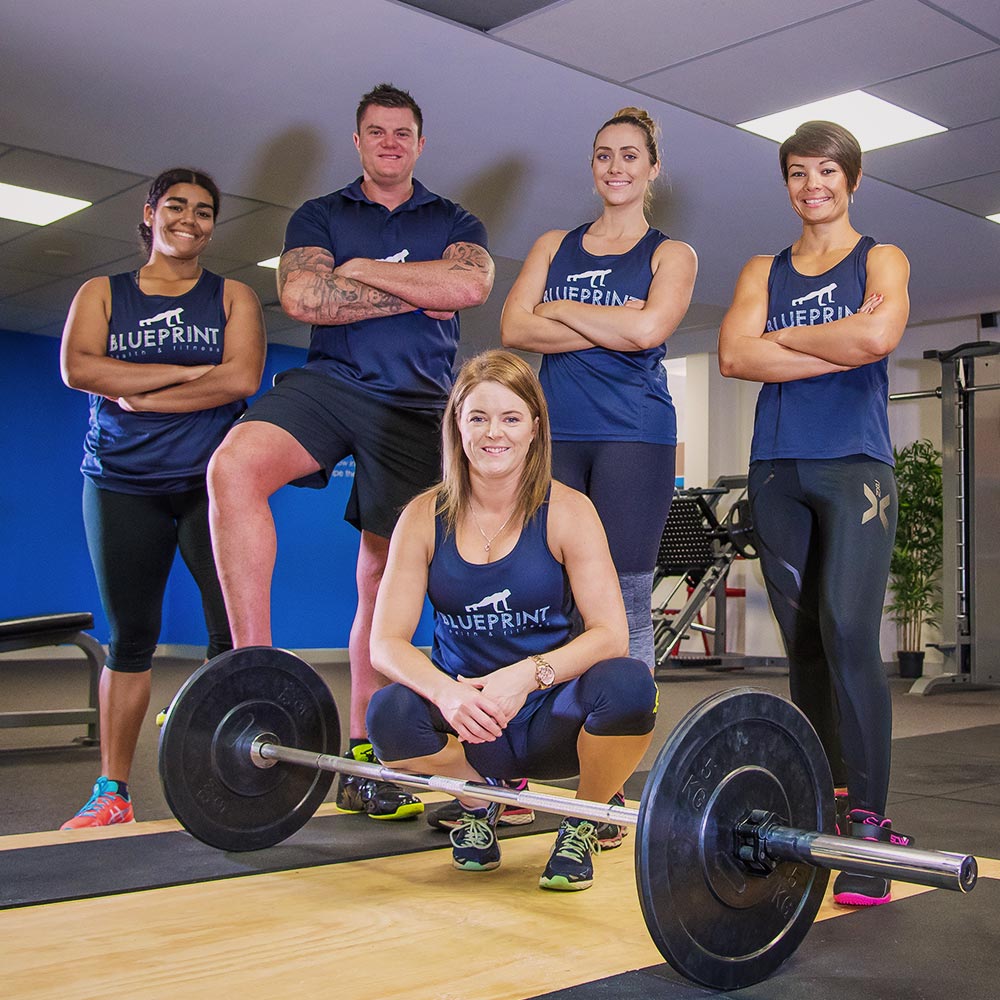 Who we are...
We launched our BRAND NEW Private Studio in January 2017.

As Brisbane CBD's Largest Private Training Studio, we offer a wide range of services from One on One Personal Training, Small Group Training to Corporate Sessions and Boot Camps. We are unique in that we are a dedicated Personal Training studio, which means all you pay for is your time with your trainer.

We are located in Brisbane's CBD on Elizabeth Street. Blueprint Health and Fitness caters to ALL fitness levels and ages. Whether you are looking to get back into fitness, lose weight, gain muscle or prepare for a specific event, we can help you get there.

You only pay for your time with us, real training, real results! We provide a towel for each workout and inners for boxing sessions. There are also change and shower facilities and again towels are provided.

Contact us today and find out how easy it is to get started on your fitness journey.
timetable
classes
12 Week Challenges
We have helped a large number of clients along the right path to a healthier more sustainable fitness lifestyle with our 12 Week Challenges. With realistic goals, a tailored nutritional plan and a trainer who cares about your results, you can reach your goals faster while you learn along the way
More Info
TRAINERS
Meet our experienced team of Trainers, ready to help you kick start your health and fitness journey, Click the "Contact Us" tab to find out more
Blueprint is the only fitness group that I've wanted to keep going and going to. I've been with them now for about a year and started with the lunch time boot camps. They were the highlight of my day! I was so sad when i got a job out of the cbd, but I still manage at least two mornings a week because I don't want to leave. Head coach Craig is very responsive and puts a huge amount of time and energy into making sure everyone is on track. Between Craig and the other trainers you get a wide variety of exercises that never get boring, and I'm seeing great results in weight loss and strength. The Blueprint army is a community and everyone supports each other and is an overall nice bunch of people. Don't feel shy or nervous about contacting Craig if you are interested. No matter your size or fitness level you will be welcome

Kim

It took me some time to get into such a great space. I tried many times to set routine but it always ended the same way - doing nothing for weeks, smashing out a hike when time permitted, then hurting for a week. The Blueprint team are just plain awesome! I love the variety at boot camp and I can't imagine my week now without exercising. I put my new good habits down to great laughs, support, pushing you to do 'one more' and the inner community. Stellar service Craig!!I have been training with Craig and Blueprint for close to 2 years. I remember the first session I came to and I couldn't finish. But Craig's motivation has kept me going all this time. I am about to have my second baby and I have been doing Pilates in the studio to help me with my flexibility and mobility and it has helped greatly. I would like to thank Craig for all his hard work and for answering all my questions. I will be back after I given birth to get fit and strong again!

Selina

Craig is professional and committed to what he does. His business is so successful and there is no doubt it will continue to be. I would recommend him to anyone and hope to train with him again!

Rebekah

If you're looking for a great trainer, look no further! Craig is a true professional - encouraging, motivating and dedicated to his clients. He has helped me lose weight, designed an eating plan for me and helped with my overall self esteem. Thanks Craig!

Tracy

Couldn't be happier. Getting awesome results thanks to a personalised program specific to my goals! Love it

Mark

Craig and his team are the most professional trainers in Brisbane. Well versed in the latest techniques they lead the way in PT and supplement this with well designed and rewarding group training that delivers superior results fast. $ for $ great value and more importantly great fun !

Patrick

Honestly, the best and the most honest personal training you will ever ever get. Very level headed, and does not muck around. The 12 week challenges are very well organized and and effective! Any new lifters or folks wanting better physical lifestyle, I would recommend blueprint any time of the day. Haters' gonna hate.. You will never regret it.

Jackson

I have been to numerous Boot Camp's with Craig and the team at Blueprint, even introducing Craig to my boss who signed our entire office up for a corporate package. Very friendly PT's with a professional and individualised training session. Would highly recommend to anyone looking for some guide ace or to change up their exercise routine! Keep up the good work & hopefully I drop a few more kg's

Greg

I have been training with Craig and Blueprint for 5 months now and love it! He is always professional and kicks my butt when I need it! Highly recommend Craig and his business!!

Anne

Have been training with Craig for a year and a half now. When I started with him I had never been in a gym before. He took the time to explain everything and I am now stronger and healthier than I have ever been. Fitness and the gym are now a part of my every day life. Craig goes above and beyond for his clients and we have become great friends in the process. I would highly recommend his business and his services to anyone thinking about getting started.

Ross
TIMETABLE
Boot Camps are designed for all ages and all fitness types. Sessions are designed to go at your own pace.  We cater to everyone from the elite athlete to the beginner